Trying to get any job at school, you should realize one thing: People sitting in the interviewing panel are not professional interviewers. They are education administrators, veteran teachers, and other people who devoted their lives to trying to make a positive difference in the lives of their students. And though they understand the ins and outs of running a school, and know the challenges their educational institution faces, they may still find it a bit tricky to lead the interviews, and to pick the best candidate for the job.
For this reason, you may get some questions that aren't really typical in professional interviews anymore, at least not in the last ten years. One of them is "Why should we hire you?". Just think about it for a moment.
This question has never made much sense. People who interview you for a job (for any job) are paid for their ability to assess your strengths and weaknesses, and gauge your readiness to handle the job. They should be able to tell whether it makes sense to hire you, or some other job candidate, without asking similar questions in the interviews.
But as I've said, people at schools aren't professional interviewers and recruiters, and you may easily face some strange teacher interview questions while meeting them. Let's have a look at 7 sample answers to this one, including some unconventional replies. Do not forget to read also my notes below the answers, for additional hints on how to approach this situation in the interviews.
7 sample answers to "Why should we hire you?" interview question
You should hire me because I meet all the job criteria. I have the required education, I specialize in PE, and I have the personal traits that make from me a good candidate for the position–or at least I believe so. What's more, I am highly motivated to teach here, I know a lot about this school and like the way it is managed, and you can be sure that I am here for a long run, and will try my best to leave a positive mark in the history books of your educational institution.
I believe that my experience plays in my favor. I've been teaching for fifteen years already. Experiencing all sorts of challenges and doing my best to tackle them, I feel ready to help you take the special education to next level. Working with children with both mental and physical disabilities, I can share my experience and knowledge with other teachers here. There's really a lot I have to offer. If you are looking for such things, I am definitely the candidate to hire.
To be honest, I cannot tell whether you should hire me, or one of the other candidates for the job. Without a doubt each one of us has their qualities, personality, and goals they want to achieve while teaching here. I tried my best to present these things to you during the interview, so you understand why I am here and what I can offer. But I am also sure that other candidates have their qualities, credentials, and ambitions. At the end of the day, you have to decide whether I am the right person to hire, or someone else is a better fit for the role.
You should hire me because you will find it hard to find anyone else for the job. Look, we both know the reputation of the school. Bullying, problems with discipline, the highest dropout rate in the city. And the remuneration package you offer isn't particularly attractive either. But for me, as someone who grew up here, money is of secondary importance. I would love to teach here, and help you try to tackle the challenges. And I doubt you will see many teachers with similar attitude in the interviews, especially when other schools in the area are also hiring teachers…
* Special Tip: This isn't the only tricky question you will face in your interview. You will face questions about conflicts with students, dealing with disciplinary issues, and other tricky situations you may face in the classroom. If you want to make sure you won't answer such questions with embarrassing silence, have a look at the latest edition of my eBook, the Teacher Interview Guide. Premium answers to all questions you can possibly face in your job interview will help you gain confidence, outclass your competitors, and get the job. Thank you for checking it out!
A better question would be why shouldn't you. I meet the job requirements, I am highly motivated, willing to relocate for this job, and I've handpicked your school from dozens of possible places to work. Of course, I have my personality like anyone else, and at times it may be a pain dealing with me, and I am sure that you have also other candidates on your list. But at least from my perspective, I see myself as a great candidate for the job, and see absolutely no reason why you shouldn't give me a chance to prove my skills in the classroom.
The answer is simple: my proven track of achievements. And I do not talk about personal achievements, but what I managed to achieve with the students. Please look at the list: I've led children from four different grades to victory in regional and national competitions, and the dropout rate has dropped significantly under my leadership. Numbers do not lie. If you would like to see your students achieve similar level of success, and the reputation of your school soar, I am the right person to hire.
Well, this is my first job application. Logically I do not have much to show yet, at least in terms of tangible results I've achieved as a teacher. But I can assure you that I am eager to learn, and highly motivated to make a positive difference in the life of every single student I teach. And I believe that attitude is the most important thing, and a young teacher with an excellent attitude to their work can do more good than an experienced teacher who has already lost their zeal, and teach simply because that's what they have always done for a living…
* Want to practice your interview answers later? Download a simple, one page long PDF with TOP 3 answers to this though question, print it, and check it out anytime later: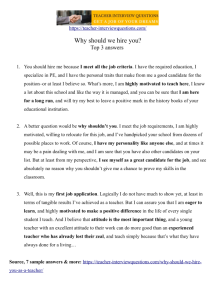 Try to combine confidence and humility in your answer
You may be tempted to boast about your skills, and saying why you are better than the others. And while this approach can sometimes yield the desired results, especially if you have something tangible to show to your interviewers, in terms of your experience and achievements, it isn't the best way of dealing with the question.
In the best possible answer, you should first and foremost present a constant desire to work on your skills, and keep becoming a better teacher along the way. That's why it isn't a bad idea to give some credit to other job candidates (saying that without a doubt they also have their strengths, and can bring value to the team at school), or even to point out a specific weakness you have–something you plan to work on during your teaching practice, in order to become the best teacher you can be.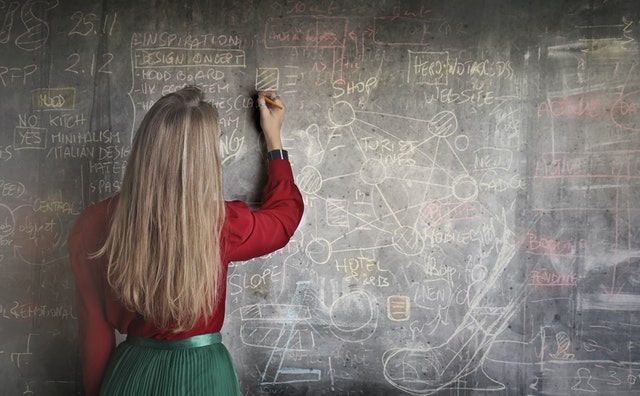 Great attitude can outweigh lack of experience
If you are just starting your professional career, or if you are looking for a job after an unsuccessful stint at some other school (perhaps they even terminated your contract, or decided against prolonging it), you can hardly refer to your experience & achievements as a reason why the principal should pick you, and not one of the other job candidates.
In such a case, your best bet is talking about motivation, and an exceptional attitude. This is true especially if the school has a great training program in place, and if they put emphasis on continuous education of the teachers. In such a case, what really matters the most is your attitude. Ensure them that you are superbly motivated, eager to learn, and will try your very best during every single lesson. In many cases it can be enough to win the job, as long as you meet the basic educational requirements of course…
Ready to answer this one? I hope so! Do not forget to check also other tricky interview questions for teachers: