The majority of job seekers will send their applications to several educational institutions, trying to eventually secure at least some interview invitations. Job search is a game of numbers, and it would be naive to think that people submit their application to one school only (unless their uncle works as a school principal at the place, or they have a similar connection within the leadership circles).
On the other hand, school principals and other interviewers do not like candidates who wander from one interview to another, knowing nothing about the schools they want to join, and hopefully bring value to. Summarized and underlined, we ask you this question (or one of the alternatives, such as "Why do you want to join this school as a teacher?") to see how serious you are about your application with us. Serious people do prepare for their interviews.
But it doesn't mean that you have to come up with some groundbreaking reason for your choice. Maybe the locality fits you, you like the management philosophy, or you've studied at the same school before, and long to return to the place as a teacher, paying back for an amazing education you got.
Let's have a look at 7 sample answers to this question. I tried to include both conventional and unconventional answers on my list, so hopefully at least one of them will resonate with you.
7 sample answers to "Why do you want to teach at this school?" interview question
I have spent a lot of time researching about schools in this district. Everything considered, I found your institution to be the most modern, high quality secondary school, with great reputation. I talked to some parents, people I know personally, and they told me mostly good things about your school, and about the teachers you have onboard. I would be proud to become a member of your team, and help you to continue grow and progress as an educational institution.
To be honest, I want to work at your school mainly because of a good location. It's just ten minutes walk away from my apartment. Living nearby, you can count on me when it comes to helping with after-school activities, for example when someone has to leave unexpectedly, or anything else happens and you need another staff member. What is more, I am local, so I know the people and children from the neighborhood, which really helps me to understand the challenges you face here. I believe it gives me an edge to most other job applicants.
I've studied here before. Had some role models, especially Mrs. ABC and Mr. DEF, who had a big impact on me as a child, and helped me overcome the problems I faced during my teenage years. I would love to close to full circle by returning here, giving back to the community, and hopefully do for my students the same my teachers managed to do for me. It would be a dream come true.
The exact role you offer was the deciding factor for me. I want to work as a Science teacher, and at a high school level, because I feel that such a role is a really good match for both my strengths and preferences. You are the only school in the city advertising this position at the moment. Sure enough, each place of work has some pluses and minuses. Teaching anywhere we face challenges, and you won't find a perfect collective at any school. Some conflicts and problems will always exist. We are people after all, not robots. For this reason, I have decided mostly based on the exact role I wanted to get.
* Special tip: This isn't by far the toughest question you will face in your teaching job interview. Check the latest edition of our eBook, Teacher Interview Guide, for multiple brilliant answers to all questions they may throw at you, including tricky situational questions. Get ready for every possibility, and ace your interview with flying colors!
Your leadership philosophy played the key role in my decision making. I know that this school places a lot of value on empowering teachers, on continuous education, and on letting both students and teachers have their word when it comes to strategic decisions that impact everyone at school. Talking to people who already work or study here, I simply got an impression that you do things right at this place. It would be amazing to get a chance to teach at this school.
Frankly speaking, I just took my chances. Lacking previous experience, and applying for a job in a time when many people lost their jobs, I simply sent many job applications, and hoped for the best. You invited me for an interview, and I am glad that you gave me a chance to present my views and the value I want to bring onboard. In my opinion, one should be realistic about their chances. I could have spent weeks studying websites and social profiles of all schools in the district, handpicking one or two at the end of the process. But if I did so, I would likely still be sitting home, waiting for a phone call that would never come..
I got a recommendation from Maddie, my friend and someone I respect a lot. She's been teaching at your place for two years already, knows the people and the management philosophy, as well as opportunities to grow professionally here. When she told me you have a position open for an English teacher and that I should apply, I did not hesitate for a second. Of course, I did also my own research afterwards. But the more I was reading about your educational institution, the more I felt it was the right place for me. Let's hope you will give me a chance to prove this in the classes.
* Like the answers but want to practice later? Download TOP 3 answers in a simple, one page long PDF, and check it out anytime later, even right before your interview: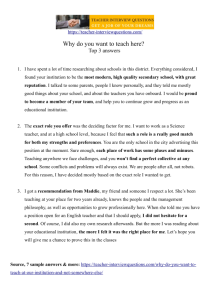 Do your homework – research about the school and find the reason to work there
Try to learn something about the school, the students, staff, their achievements, vision and goals, study programs, problems and challenges they face. Check their website, social media profiles, and also what local news and gossips have to so say :).
Note down things that resonate with you, or at least things you find interesting. Your research will help you come up with a meaningful answer to this question, and it can also help you to deal with other challenges you may face in your meeting with the principal and their colleagues. At the end of the day, it is always easier to connect with people if you know something about them, and about their school…

Show respect and recognition
Education administrators are almost always proud of their institution, and of their work. Successful job candidates realize it, and use questions like this one as an opportunity to stroke their ego. You can talk about excellent results the students achieved (at competitions, or simply when compared to students at other schools), good reputation of the institution, excellent management practices, modern study programs that offer practical application to the graduates, etc.
Talking about such things will almost always work in your favor, for a simple reason: When we speak nicely about the school, we in fact speak nicely about people who lead and manage the place.
These people will almost always sit in the interviewing panel. Everyone likes to be praised for their work, so if you find something worthy of a praise, mention it in your answer. If you find nothing, however (the school is new, or has a bad reputation), you can just pick any other reason suggested in one of the sample answers (recommendation from a friend, fitting job description, excellent location, the only place you had chance to succeed at, and so on, and so forth).
Next Questions: