Though often the first question in an interview, you should not consider it a mere ice-breaker. In some cases, it can be the only question the principal will ask you. You introduce yourself, say the right things, and they offer you a job. That's a dream scenario though…
More often than not, you will have to deal with many other questions down the road. But everything starts here, with a question you expect, and can prepare for in advance. What should you focus on while introducing yourself to the hiring committee?
In my opinion, you should not spend fifteen minutes answering the question, narrating in great detail your education and teaching experience. On the contrary, you should focus on a few crucial points—your strengths (more on it later on), and add a detail or two from your personal life (whether you have a family, what you enjoy to do in your spare time, etc). Just to show them that you are in for an open an honest discussion, and have some life outside of work as well.
Let's have a look at 7 sample answers to the question now. I tried to include answers for both fresh graduates and veteran teachers, adding some unconventional answers to the mix. Do not forget to check also the content below the list of answers, for additional hints on how to impress the interviewing panel, and the school principal.
7 sample answers to "Tell me about yourself" interview question for teachers
I would characterize myself as an ambitious and enthusiastic young teacher who hopes to bring positivity to each classroom, as well as to the staff-room. I love being around children, and generally children enjoy being around me, and I cannot wait to start teaching here, or at another elementary school with a great leadership in place. In my free time I enjoy dancing and socializing, as well as reading books on human psychology and ecology.
My name is Martin, and I've been teaching for seven years now, PE. I am a firm believer that for a healthy mind you need a healthy body, and see it as my mission to make sure that we limit child obesity to minimum, and teach kids to enjoy the most natural activity for human species again–movement. Since my wife needed to move to this city for work, we decided it would be the best option for me to follow. I found your school, liked what I read online, decided to apply, and I am glad that you decided to give me a chance in to interview for a PE teacher job.
I would characterize myself with the following three words: responsible, passionate, and humble. Understanding the responsibility we carry on our shoulders as teachers, especially at elementary and secondary level, I have approached my education responsibly, trying to get ready for all challenges I may face as a teacher. At the same time, however, I try to teach with passion–for the subject, and for the children. I believe students can feel it  in the classes, and it helps me to win them over. And at the same time I try to stay humble, always learning from more experienced teachers, but also from my students, and the feedback I get on my lessons.
* Special tip: Don't forget that "Tell me about yourself" is actually one of the easiest questions you will face in your interview for a teaching job. Have a look at the new edition of our eBook, Teacher Interview Guide, for multiple brilliant answers to all 40 teacher interview questions, including tricky situational questions. In a few hours from now you can be ready for every question they may possibly throw at you. Thank you for checking it out!
As you can see on my resume, I've been teaching for over twenty years now. That's a lot to talk about really. Instead of going through the jobs one after another, I will just say that I still enjoy my teaching mission, look forward to a new challenge at your university, hope to publish some great research papers while working here, and overall I am definitely not yet bored with the profession. I've had my share of successes, as well as difficulties, and believe that both made me stronger as a person… If you would like to elaborate me on any of my former jobs, please ask. When it comes to my free time, I enjoy spending time with my children and going for walks with a dog, to make up for long hours we spend sitting as teachers.
My name is Marie, 22 years old, single, applying for my very first teaching job with you, and super-excited about this interview. As you can see on my resume, I've earned my degree with DEF University. I have a dream to become a role model for children I teach, and make a positive difference in their lives. Yet to be tested in a real classroom environment, I know that I will face many challenges. But I embrace it all, and am sure that I will manage to handle them, with the help of my new colleagues. Outside of teaching, I am a passionate cyclist and a vegetarian cook. Healthy lifestyle helps me to maintain high energy levels throughout the day, which should allow me to deliver my best in each lesson. And that's exactly the goal. Anyway, I am sure you will understand me better as a person during this interview, and I also hope to learn more about you as a leader of this school…
My name is James, I am 52 years old, and have just moved here from Canada, after working mostly manual jobs back home for thirty years. Trying to benefit from my native language, I want to get a job of an English teacher at a private language school, starting a new life here, rediscovering passion for living and working–a passion I've struggled to find back in Canada. Other than that I am just a normal guy who enjoys meeting new people, reading, and learning new stuff. Since I read a lot I find myself comfortable conversing about all sorts of topics, which I believe will be extremely helpful in conversational lessons with your students. Would you like me to elaborate on my education, or any of the jobs I had in Canada?
First of all, thank you for inviting me for this interview. I've done my research, your school is my first choice, and it really means a lot to me to have an opportunity to interview here today. If I should characterize myself, I would say the following: Experienced Math and Physics teacher, with a proven track of achievements when it comes to results my students achieved, whether we talk about grades, getting to universities of their choice, or participating and winning in regional and national competitions. In my private life I am a father of two and a loving husband, and enjoy hiking with my family during the weekends. Looking at my resume, is there anything in particular you would like to know about my education or previous jobs?
Special Tip no. 2: Want to read this later, or right before the start of your interview? You can download top 3 answers in a simple one page long PDF, print it and practice anytime later: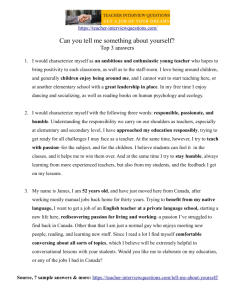 Non-verbal communication is equally important, especially at the start of your interview
The last thing any school principal wants is getting onboard a teacher who doesn't enjoy their profession anymore, someone full of negativity. I sincerely hope it is not your case. Even if it is, however, or you happen to stand somewhere in the middle, try to sound more optimistic while introducing yourself.
Speak with enthusiasm about your education, experience, and expectations. They should get an impression that you still see teaching as a meaningful profession, and want to make a positive difference in the lives of your students. In a way you should sound pumped-up in this interview. This is a school where you want to work, and you cannot wait to get the most out of your opportunity to interview with the principal (or with anyone else leading the meeting). First impression is made only once. Remember it while introducing yourself.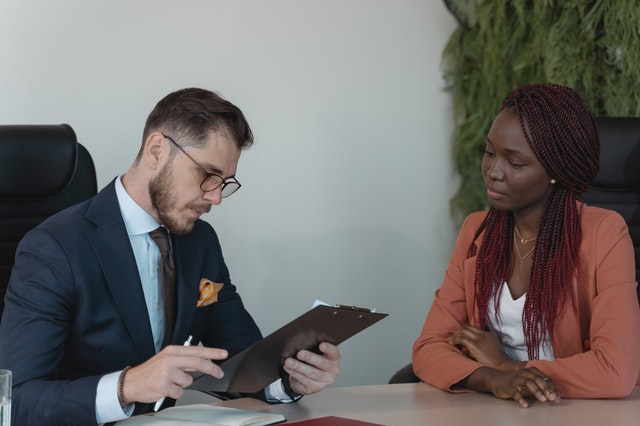 Show your creativeness with a format of your answer
Most people will start their introduction in the following one: "My name is XYZ, I am XY years old, I've studied at ABC University, etc." And while it isn't a bad opening, and you can certainly win many points with such–if you elaborate on it with something meaningful, you can also try to approach the question in a more creative way.
Why not introducing yourself with three adjectives only? Or with one short but powerful sentence that conveys the most important message you have to tell? Alternatively you can start with words of praise–something that every leader loves to hear–saying how much it means to you to interview for a job at such a great school. Be creative and stand out from the crowd. In many cases that's the most important thing to do in the interviews…
Ready to answer this one? Check also 7 sample answers to other tricky teacher interview questions: