"If we just had more time as teachers, if the lessons were longer, we would achieve better progress with our students." Teachers had been saying this for decades–perhaps looking for excuses–until they were finally heard out. Authorities came with a new position, called Teaching Assistant.
TA is a professional who should help the teacher with both teaching and administrative duties, making sure that the teacher can focus on the core of their job, and does not "waste time" with secondary duties, such as preparing the classroom and setting up necessary material for the classes, or spending extra time explaining the lesson to a student with special needs. Teacher Assistant should take care of these things and of other duties, depending on their exact place of work, and the challenges each classroom presents.
You do not need a university degree to apply for this job, and the interview is not particularly difficult. They will typically inquire about your motivation, idea of the job, future plans and goals, and your attitude to some tricky situations you may face in the classroom as a Teacher Assistant. They may add a few typical interview questions to the mix, such as the question about your weaknesses and strengths… Now we will have a look at the questions, and I will try to show you how to answer them to get the job.
Why do you want to be a Teaching Assistant?
Explain the meaningful purpose you see in this work. Things have changed in education in the last fifteen years. More children than ever suffer from all sorts of problems and disabilities, and they need an assistant. If they do not have them around, they will simply break the fluidity of the lesson with their questions and requests, or with their lack of discipline. And that will impact on everyone else in the classroom–something we cannot afford to happen.
What's more, the expectations on teachers are higher than ever, and the discipline in the classes has worsened. Teacher assistants help teachers to handle the workload, and to maintain the discipline. They have an important place in each classroom, and you will be proud to have this job.
Other thing you can refer to are your skills and personality traits fitting for the job. You can say that you excel in organization and time management, and are great in one on one teaching. Considering everything, you find the job a great match for your skills, and a perfect choice, at least at this stage of your professional career.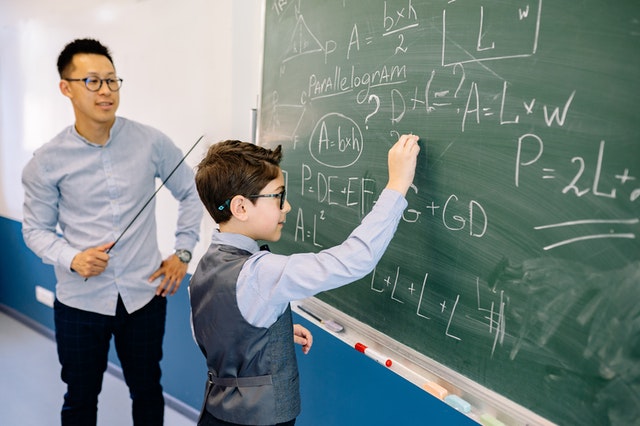 Where do you see yourself in five years from now? Do you want to become a teacher?
Teaching assistants can become teachers, and some school districts actually offer programs that will reimburse them for the costs of tuition, in exchange for working for the district for several years. Hence you can definitely show your desire to teach one day–if it happens to be your goal.
However, I suggest you to focus mainly on your teacher assistant job, and on the present moment. Say that first and foremost you want to become an excellent teaching assistant, a true helper for both the teacher and the students, making sure that each child has an opportunity to reach their full potential. Maybe you will opt for a degree and a teaching career down the road, but you do not see the job of an assistant as a mere means to an end. On the contrary, you want to do the job, and you want to do it well. That's your main focus, not what will happen in five years from now.
How do you imagine your role in the classroom, and your cooperation with the teacher?
This isn't an easy question, because it really changes from one job to another. Your duties will depend on the situation in the classroom, the number of students with special needs, the subject of the lesson, as well as the expectations of the teacher, and what sort of help they need from you. Read the job description once again, and try to understand what exactly they expect from you. The duties may include, but are not limited to:
Help teachers with the lesson plans
Track student attendance
Work with smaller groups of students (or with individual students), helping them to keep the pace with the lessons.
Participate in school events and excursions
Make sure classrooms are safe and tidy before the start of the classes, and all necessary equipment is in place (think maps for Geography lessons, for example)
Assist teachers with various tasks, including communication with the parents
Report to teachers about possible behavioral issues
Another alternative is summarizing your role in the classroom in one sentence, saying that you imagine doing whatever possible to make sure the teaching goes on according to the plan, and all students (including children with special needs) progress, at least to the extend of their capabilities.
Imagine that you strongly disagree with something a teacher does in the classroom. What will you do in such a situation?
Teaching assistant shouldn't be a mere observer in the classroom. They should provide feedback to the teacher, because they see things from a different perspective, and are generally closer to the students. But this doesn't mean that you should start arguing with the teacher directly in the lesson, undermining their authority. One the contrary. You should wait until the end, or call them outside for a while, to have a private one on one chat with them.
What exactly you should do depends on the severity of the issue. A well-intended and well-explained word of advice will do the trick in many cases. In some cases though, you'll have to raise the issue with the principal, or with other figure of authority at school. Ensure the hiring committee that you will say something when you disagree with the teacher's conduct. At the end of the day, the well-being and progress of the students is your first priority…
What are your strengths and weaknesses as a teaching assistant?
You have a few options here. First one is saying that you simply don't know, because you are just applying for your first job in the field. You need a few weeks in the job to understand areas you should improve on. Once you identify them you will work on them, because you want to do a great job, and not merely go to work to earn money.
Second alternative is pointing out a couple of abilities important for the job. To such strengths belong communication skills, problem solving, time management, empathy, patience, ability to explain difficult things in a most simple way, etc. You can actually pick one of them for your weakness, and ensure the hiring committee that you try your best to improve on it–because it matters for the job, and you want to become the best teaching assistant you can be.
Third option consists in focusing on your experience working at school. Either you have some experience, or you don't. In the first case it is your strength, because you've already faced the challenges you will face in the classroom in your new job, and hence you are better prepared to address them correctly. In the second case it is your weakness, for the same reason. The challenges will be new for you and you need some time to learn how to deal with each one.
Other questions you may face in your teacher assistant job interview
Imagine a situation when one of the students refuses to work on the assignment from the teacher, and behaves disruptively. What should you do in such a situation from a position of a teaching assistant?
Do you have any experience working with students with special needs? What role should you play in their education as a teaching assistant?
Why do you want to work for our school district in particular?
What do you consider to be the toughest aspect of this job?
How do you plan to gain the trust and respect of the students?
What do you hope to gain from this experience?
Final thoughts
Interview for a job of a teaching assistants belongs to interviews with easy difficulty. Interview questions tend to repeat from one school to another, and you can definitely prepare for them in advance–something I strongly suggest you to do.
Do not forget to learn as much as you can about the particular school before the start of your interview, and especially about the role teaching assistants play in the educational process. The role of assistants changes from one place to another. Knowing exactly what they expect from you will help you come up with the right answers to some of their questions related to your working duties. I hope you will succeed, and wish you best of luck!
Glen
May also interest you: