In a typical panel job interview at school, and it doesn't matter if you interview for a job of a teacher, school psychologist, assistant principal, or for a role of a substitute teacher, one chair will belong to someone representing the entire school district. It can be the superintendent, or one of their assistants, or someone else from the administration.
They have the goals of the entire district on their mind. They know the leadership figures, the values and goals the district tries to attain. And they try to figure out whether you are a good match for the job. What's more, as a substitute teacher or psychologist, or as a mental health counselor, you may actually work for the district instead of one particular school, traveling from one place to another, always being where they need you the most.
In any case, question about your choice of a school district makes sense, and you should prepare for it in advance (the same is true with all teacher interview questions). Let's have a look at 7 sample answers, including some unconventional choices. Do not forget to read also my notes below the list of answers answers, to understand better the complexity of the question.
7 sample answers to "Why do you want to work for our school district?" interview question
I was born here and spent my youth studying here. I know the local community, teachers, students, parents. In my opinion, it is an advantage when you know the people and they know you, since it is easier to get their feedback, to communicate your thoughts, and also to understand the challenges the school district faces. What's more, I am grateful for the education I got here, and would like to pay back the favor with my excellent teaching.
You are the best. It is as simple as that. I've done my research, checking different school districts in the region. Comparing numbers and results students achieve, as well as the modernization of schools in various districts and the situation with specialized counselors and other professionals, I came to a conclusion that the leaders of your district do an amazing job, and that I would love to work under their leadership. That's why I want to work for you instead of one of the other districts in the region.
Speaking honestly, the job offer was the deciding factor for me. I wanted to teach Math and Chemistry at a secondary school, and your district was the only one advertising such a vacancy. In my opinion, every school district has some advantages, and faces some challenges. And you will always find some amazing people at each school. That's why for me it doesn't matter that much for which school district I work. Having said that, I definitely want to learn more about your values and goals when it comes to education, and hope to help you achieve them, from my position of a Math and Chemistry teacher.
Applying for a job of a substitute teacher, I was looking for a smaller school district. Because I've worked for a big one before, and I found it hard to travel between twelve different schools. We had more substitute teachers onboard, and we all traveled from one school to another. It was hard to really get to know the students, the distances between the schools were large, and I found the entire experience extremely taxing. That's why I decided to apply for a job with a smaller district, and I am glad to have a chance to interview with you.
I would love to work for your school district because your values, and especially your attitude to special education, resonate with me strongly. In my opinion, children with special needs deserve individual approach. And that's impossible to achieve if you have no paraprofessionals in the classes, or if the school does not employ enough special ed teachers. But that's not the case with your district. I like your approach, and it was the no. 1 reason why I chose you instead of some other school district.
I know four teachers working for your district, at different schools. All of them praise the communication with the district leaders, the working conditions, as well as the opportunity for continuous education and career growth in the district. I trust these people, and after our talks I am extremely motivated to work for your district. What's more, I've been living here for ten years, know many people from both ranks of students and parents, and believe that I can benefit from it in my job.
Speaking honestly, I simply needed a change. I've been working as a teacher in one district for twelve years. And though I have enjoyed it, and believe that I've helped them achieve their goals, I wasn't really on the same page with the district leaders and school leaders anymore. And I also felt that I was stagnating in my job. Moving to another district, and also hopefully from secondary school to high school education, I hope to restart my career and enjoy my days at school again. I did a good research, I like what you are doing here, and find it a great match for what I want to do and achieve at this stage of my teaching career.
You do not necessarily need a reason
It is easy to say something when you apply for a job in a school district with excellent reputation and results. Or when you've been living in the same city for your entire life. But what if you apply for a job in a district with a bad reputation, or haven't actually found anything amazing about your future place of work?
In such a case, you can simply focus on the job, or the particular school where you will work. Sample answer no. 3 on my list is a great example. You wanted a particular job, teaching particular subjects at a particular level of education. Their district advertised the vacancy and you decided to apply. Or you always wanted to work at a particular school. Perhaps your children study there, or you have a strong affiliation to it, or you love the philosophy of the principal.
As soon as you saw a fitting job opening you decided to apply, but you do not care that much to which school district it belongs. Of course, you hope to have a good cooperation with the leaders of the district and help them achieve their goals. But the name of the district isn't a deciding factor for you…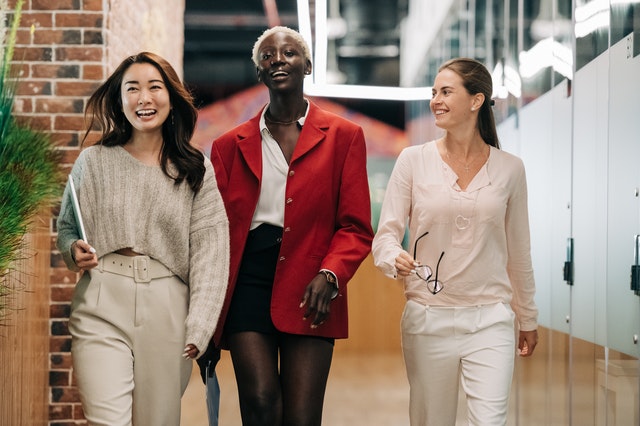 Each interviewer loves honest words of praise
Some people in the interviewing panel have spent decades of their life working for the school district in question. Sure enough, they had their highs and lows, and they made some mistakes. But they also delivered on their promises and achieved their goals. If they did not, they wouldn't be sitting opposite to you in the interviews.
Many people in education administration experience lack of recognition. They strive to hear some honest words of praise, knowing how much they've sacrificed for their district. If you want to succeed in your interview, you should give them what they desire for. Do your research. Check the numbers for the school district, but try to learn also something about the leaders and their careers.
Once you have the information, you can relate to it in your interview, and recognize the interviewers for their achievements. Remember to stay honest though. Praising them for something they did not do, or overstating their achievements, would not yield you the desired results…
Ready to answer this question? I hope so! Do not forget to check also 7 sample answers to other teacher interview questions: