Dear Teacher,
I will keep this page short and to the point. Here's what I have for you today: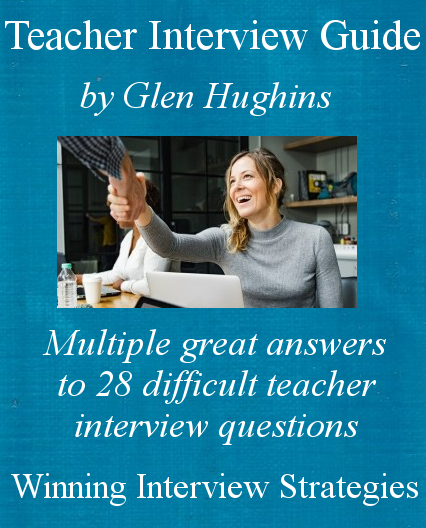 In the eBook, you will find multiple great answers to each of the following questions:
Why do you want to become a teacher?
Can you name the main problems teachers face nowadays? How would you solve the problems?
What are your strengths and weaknesses?
How would you approach the students of the first class, on their first day at school? What would you say?
How do you measure student performance in your classroom?
What teaching methods do you prefer and why?
What would you do if a student was complaining about an assignment you'd given?
Do you think that all the students should be treated equally, or that there should be an individual approach to every student, in accordance with their abilities and potential?
Imagine that father of one of your students complained about something which was untrue. How would you react?
A parent calls you because they are worried about their child's low grades. What would you say to the parent?
What actions would you take after such a call?
What do you consider to be the toughest aspect of this job?
If you teach a lesson and your students don't seem to be "getting it," what do you do?
What do you expect from the administrators and from the principal?
And 15 other tough questions you may face in your teaching interview.
Check the sample to see how this book can help you:
Sample from the eBook
---
Question: Tell us more about your experience with teaching.
Hint: We have read your resume, and we know what you have done before applying for this job. But we will still ask about your experience, to see whether you talk positively or negatively about teaching, about your former colleagues and superiors, about your own experience.
We also want to see if you idealize this job, or if you see it realistically, with all good and bad that belongs to a job of a teacher.
In every developed country, teachers have a chance (and often an obligation) to teach before completing their studies. It doesn't matter whether you taught in a teaching practice, residency program, or worked as an assistant teacher before – in all of the cases, you have something to talk about.
Try to recall the experience and summarize the lessons you learned along the way. It doesn't matter how difficult, or easy it was for you, you should focus on the good things in your interview answer.
The same applies to seasoned teachers. If you have years of experience under your belt, try to speak about those years with love. We should not get the feeling that teaching bores you, that you do not enjoy it anymore.
Sample answers
I spent one year at Boston Teacher Residency. I taught alongside older professionals. I must say I really enjoyed this experience and learned a lot from the other teachers. Every day was different, and I felt like understanding each student better and better, as we progressed in the program. This experience helped me to understand that teaching was a right choice for my career, and now I am motivated to teach alone, and to put into practice everything I learned at BTR.
I taught at elementary school for three months, during the last year at the university. It was difficult at first, as I found it hard to cope with the discipline issues in the classroom. However, after few weeks I found my ground, and I learned what worked with the students, and how to keep the discipline at a reasonable level. It was an extraordinary time, and to be honest, I still miss the children.
Question: If you teach a lesson and your students don't seem to be "getting it," what do you do?
Hint: Interviewers are trying to find out a few things with this question:
Do you consider yourself a perfect teacher, or do you admit making a mistake from time to time?
Are you flexible enough to change the way of teaching in a course of a lesson, and are you willing to do so?
Do you blame the children, and expect them to change and improve on their own, or do you rather try your best to explain the topic in a most simple way for your audience?
Needless to say, people in the hiring committee look for flexible teachers who are in a class for their students, and try to improve on their teaching every day.
Sample answers
It happens sometimes, because even though I try my best to prepare for the lessons, sometimes I have a bad day, and sometimes I over-estimate the abilities of the students. But I always try to get their feedback; I ask questions in a lesson in order to see whether the students are getting it. If they are not, I change the method of explanation, try to use practical demonstrations, or pictures, and simply do my best to ensure they will get it at the end.
I always listen to the students, watch their reactions and observe their non-verbal communication, to see if they are getting the lesson. If not, I try to go back and identify the point in which they started to struggle and lost their concentration. Then we explain it again, in a more simple way. It is not always easy, but luckily, we have the internet, we have video presentations, we can use demonstration and other methods to help them to understand difficult topic. I try to stick to the lesson plans, but if the children aren't getting it, I don't mind changing the plans, to ensure that at least most of them understand.
—————end of sample————–
---
That are just two interview questions. A small fraction of 51 pages long, highly specialized eBook, in which you'll find:
Brilliant answers to twenty-eight difficult teacher interview questions.
Guide on how to identify the value you can bring to the school, and on how to demonstrate this value in your interview.
Two winning interview strategies for teachers.
… and much more.
---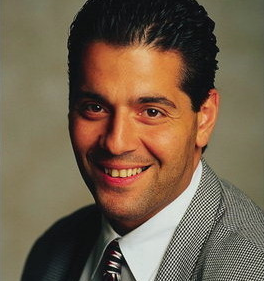 So that's it. I do not want to waste your time with lengthy sales pages, and imaginary discounts, just like other people do on their websites, while selling various digital products.

You have read the sample, you know what the eBook is about, and surely you can tell whether it will help you or not.
I sincerely believe it will help you in your interview. And you can read it easily in two or three hours, it's 15,000 words. Only things that truly matter.
What is more, I do not want you to risk anything. Anything. Therefore I offer you a risk-free 60 days money back guarantee.
If you don't like this eBook for any reason, or no reason at all, just let me know (email me at glen[at]teacher-interviewquestions[dot]com) within 60 days and I will give you a full refund.
Quick summary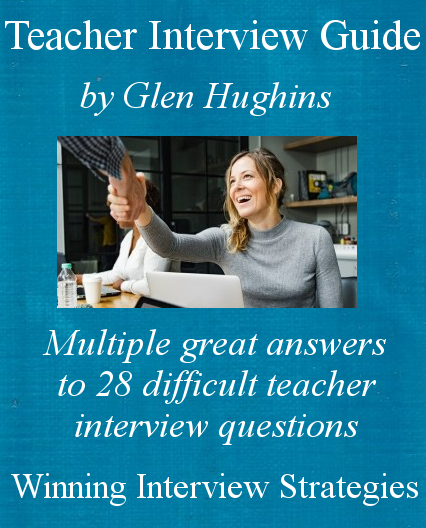 Brilliant answers to twenty-eight difficult questions you may get in your interview for a job of a teacher.
Published in 2014, updated in 2020.

Several sample answers to each question, so you can choose the one that reflects your values and experience.

Other useful tips that will help you to get rid of stress, and simply do everything right on a day of your interview.

Instant download, .PDF format (you can read it on any device (mobile, kindle, PC), and you can easily print it).
Secure and simple checkout with PayPal, you can pay with your credit/debit card, or with your PayPal account.
Price: $19.95, one time payment, no hidden fees or upsell. 60 days risk free money back guarantee. You won't find this book for a better price anywhere else.
Click the checkout button below to proceed to the payment.
(After the payment you will be directed back to our website to download your Interview Guide. You will also receive a download link and instructions to your email, just to ensure that you will get the eBook without waiting, even if the redirect fails.
If you can not see an option to pay with your credit/debit card once you click the check out button, click on "Create account with PayPal" or "Sign up". PayPal will offer you an option to pay with your credit or debit card, without a need to register an account with them–you will pay as a PayPal guest.)
---
That's it. Your interview does not have to be stressful, or difficult.
You can interview with confidence, and give brilliant answers to all tough questions. Download the guide today, and succeed in your interview for a job of a teacher.
Sincerely,
Glen Hughins,
Your personal job interview coach
P.S. Send me a message to glen[at]teacher-interviewquestions.com if you are still not sure how this guide will help you, or if you have any questions. I try my best to answer all messages within twelve hours. Thank you!