Teaching at a university level requires a lot of effort and preparation. In order to deliver top-notch lectures, and handle all related duties, professors and other teaching staff members have their assistants, who we call graduate assistants. Their job entails mostly administrative and research work, though what exactly you will do depends on the professor or department you work for, their work ethics, and how much they trust you. In some cases you may even lecture in the classes or co-author important research papers. Position of a graduate assistant is also an ideal stepping stone for your academic career, should you dream of becoming a professor one day…
Interview for this job does not follow any standard rules. They will ask you about your motivation, skills, expectations on the job, as well as your academic goals. But personal preferences play a big role here, because you will spend a lot of time with the professor. Obviously they are looking for someone they feel at ease with, and making a good connection is pivotal for your success in this interview. I suggest you to do a good research and learn as much about the professor as you can–including their hobbies and personal life. The more you know about them the easier it will be to refer to things the two of you have in common and make the connection. Let's have a look at some of the questions you may face.
Why do you want to work as a Graduate Assistant?
You should have at least two or three good reasons. One of them can be your desire to pursue academical career, perhaps in the same field as the professor you'd work for. Another one is simply making some extra cash while still studying, and giving back to the community of teachers and students. You know that professors have their schedule packed. In order to focus on the core of their job, they need help, and you want to help them.
You can also say that you see the job as a great match to your skills and strengths. Excelling in organization and time management, typing quickly and enjoying administrative work, you believe to be able to do this job well, and really help the professor with their workload. If you find it fitting, you can even refer to a particular department or professor–why you want to work as their assistant. Maybe you love their research work and would like to participate on it, or you'd like to pursue post-graduate studies in the same field. One way or another, they should get an impression that you have carefully thought this out, and know why you want to be a graduate assistant.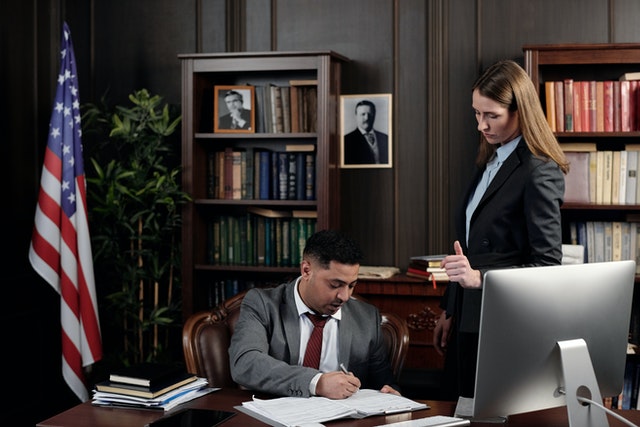 How do you plan to combine your student duties with your job of a graduate assistant?
Your studies should have the first priority always, and your goal is to convince them you can handle both work and study. You can say that you plan to sacrifice some free time activities for this job, or simply rely on your excellent skills and say that for someone with your level of ability, studies aren't particularly difficult, and you can easily imagine squeezing in 10-20 hours of work per week as a graduate assistant.
Examples from the past work great at this point. Maybe you had some part time job in the past (or you still have it), such as in a fast food restaurant or something similar. You've worked for 20 hours a week and still managed to achieve your present academic results. Now you simply want to change this boring manual job for something better, but in terms of allocating your time things won't change much. Hence you are not afraid that your work of a graduate assistant will have a negative impact on your study results.
Can you tell me more about your career and academic goals?
They hope to discover some connection at this point. Each graduate assistant is also an investment for the university, a potential teacher or professor in the making. If you dream of–or even just consider-pursuing post-gradual education, or working in the academic sector, you should say so now. Needless to say, it helps if your future plans relate somehow to the work you'll do as a graduate assistant. Perhaps you'd like to teach in the same department one day, or dream of research work in the same field.
Just to make it clear, you do not have to be 100% honest at this point. Few weeks or months after the interviews, nobody will remember what you've said. And plans change quickly in life. Hence you can say that you dream of academic career or some research work even if it isn't necessarily true, or if you simply do not know at the moment what you'd like to do with your life once you graduate.
How do you imagine your typical week as a graduate assistant?
Couple of things to remember here: Try to show proactive approach to work, and avoid having fancy expectations on the job.
Let's face it, graduate assistant is, as the job title suggests, an assistant. Imagine job of an administrative assistant, and then just move it to academic environment. Most of the time you will take care of simple administrative and research work, such as typing something into a word processor, or reading some papers looking for specific information the professor needs for their research.
You may also answer emails, and help with event organization, or even conduct "fieldwork research", which more often than not means approaching students with questionnaires and marking down their answers. Of course, you may also assist with teaching, with evaluating exams, and doing other more interesting stuff. This really depends on the exact job and your superior. Unless you are sure you'll do such things (for example consulting their former graduate assistant and learning the details of their job), I suggest you to focus on the basics, the administrative and research work.
What have you done for the student community over the years?
Let's be honest. It is extremely hard to get this job unless you have volunteered in some roles before. It can be the job of a resident assistant, position in the student council, volunteering in local university paper, or even working in school cafeteria or in a library. They prefer to hire people with such experience for two reasons.
First one, because they know they aren't in only for money. Of course, each of these roles has many benefits. You typically do not earn anything as a resident assistant, but you make connections, have your place secured at the dorm, and may even earn some extra credits and benefits for having the role. Still, it is volunteering, and it demonstrates that you are willing to do something for fellow students without getting monetary reward for your efforts.
Second reason is that it proves that you can successfully combine studying with work. If you managed to do so as a resident assistant, why wouldn't you manage to do it as a graduate assistant? But what to do if you've never done anything for the student community before? In such a case you should explain why. Perhaps you had too much on your plate, with school, extra-curricular activities, family issues, and paid job you could not leave, because you needed it to support your studies financially. You wanted to do something for fellow students, but it just wasn't possible. Now finally circumstances changed, and you feel ready and motivated to do something for the student community…
Other questions you may face in your Graduate Assistant job interview
What is your availability? What hours can you work each day?
How do you imagine your cooperation with various bodies representing the students?
What do you expect from me, or from other people you will work for as a graduate assistant?
How many hours per week can you work?
Do you have any experience with teaching, or with assisting teachers?
Tell us about the last conflict you had with another student. What was the conflict about, and how did you solve it?
How would you define your research interests?
What are your salary expectations?
Final thoughts
As I've already said, personal preferences play a big role in this interview. If the professor likes you, and perhaps even have a positive experience with you from the classroom, they may ask you just a few questions, and you may get a job. The same is true when you have a great reputation at the university, and have done a lot of things for the students over the years.
On the contrary, if they know little about you, or if many students apply for the position, the interview can get more complicated, and you will have to deal with all sorts of questions. Of course, it depends also on the interviewing skills of the person you talk to, and what exactly they want to find out while interviewing you. But I do not want to confuse you at the end, or anything similar. Try to prepare for the questions from this article, check also other online sources, and make sure to research about your future superior. I hope you will succeed, and wish you best of luck in the interviews.
Glen
May also interest you: