Why did you decide for a career in teaching?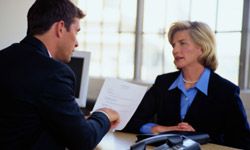 If they do not start an interview with a typical "Tell me about yourself" question, this one will be the first. Interviewers try to understand your motivation and intentions, they want to comprehend the way you see teaching. Is it only a job for you, a work you do to every day, one with decent salary and benefits? Or, do you see it as a personal mission? Are you trying to make your career dream come true, or, do you just apply because you graduated from teaching? This is on their mind when asking about your career choice.
Show motivation and enthusiasm
Your goal is to convince them that this is a job you want to have, not just an attempt to make your parents satisfied. In an ideal case they should get a feeling that you always wanted to be a teacher and can't imagine a better position for yourself. Don't hesitate to talk about your childhood, positive role models (your teachers), bad results students have in annual comparison and your desire to change it, etc. . . .alternatively you can talk about good predispositions for a job, or experience with reteaching fellow students while studying.
Sample Answers
When I was young, I always had good teachers at school. I looked up to them and believe that they influenced me positively in my life, helped me to become mature and be able to take right decisions in life. From that time I always wanted to become teacher and did everything to make it happen. Now, after graduating, this is he next step for me.
I always liked to listen to the others and to teach. I was an excellent student and I used to help fellow pupils with their homework. I actually gave some math lessons, not only at the college. So I know what it means to teach and I feel I have something to give to students. On the top of that I believe in a great importance of helping the young generation to find their place in life and be proud to take part on this mission.
Next Questions: